This year marks the 5th anniversary of one of our key products, METEOTREK MOBI, designed for monitoring weather conditions during agricultural operations in the field. Let's recall the main stages of development and evolution of this solution and the timeline of events.
Fall 2017: The first order for a similar functionality came from one of the largest agroholdings in Ukraine. The task was to monitor weather conditions during the application of mineral fertilizers, specifically temperature, air humidity, and wind speed. Within a month, a pilot project was conducted in the field. Since it was already late autumn, and sprayers were no longer operational, the equipment was installed on a combine harvester, and the solution's efficiency was confirmed during corn harvesting.
2018: Product sales and initial feedback. It's worth noting that even in the early versions, the product worked reliably, and feedback mainly focused on expanding functionality. This led to the introduction of Bluetooth connectivity, allowing data from Meteotrek MOBI to be transmitted locally to the mechanizer's smartphone or tablet using the Meteotrek MOBI mobile application for Android.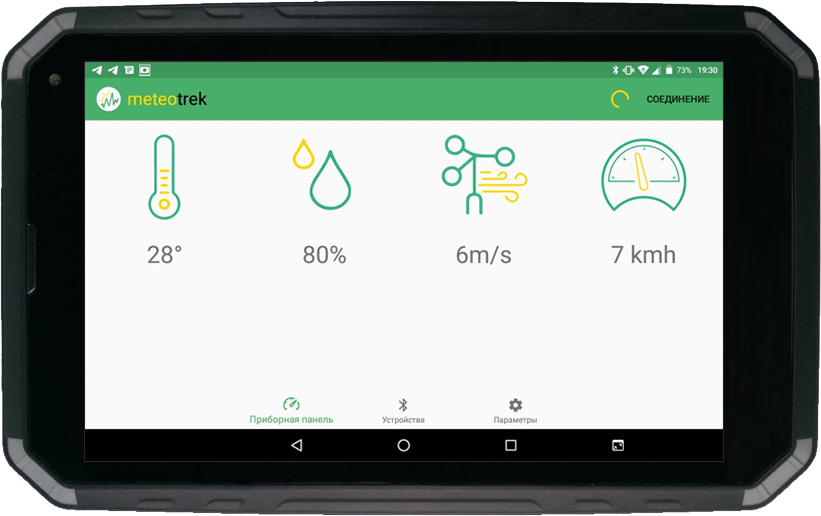 2019: Significant product scaling. Due to widespread use, it gradually becomes a leader among models in terms of the number of units sold and installed.
2020: Large agricultural holdings set the task of developing a universal bracket for any type of sprayer. Numerous trips for equipment inspections, initial experiments, and successful (and not so successful) installations of special sensor protection against intentional or accidental damage. At the request of one of the clients, integration of an ultrasonic sensor for wind speed and direction is implemented.
2021: Large-scale equipment deployments by the dozens, direct integrations with various software products. Connection and successful testing of an additional precipitation indicator. Development of protective elements and the transition to a unified model of metal protection (which has not yet reached serial production). Branching out into the Meteotrek Rapid weather station, which becomes the first mobile stationary station and is placed on a tripod in the necessary location (and in 2022, it becomes an indispensable assistant to our artillerymen during the war). The beginning of the development of comprehensive functionality for working with data from Mobi in the Meteotrek web interface and in the new mobile application.
2022: High hopes for Ukraine's swift victory in the war and the resumption of work on all suspended fronts and signed contracts. According to our clients, Meteotrek Mobi remains a unique product within Ukraine and an excellent solution in terms of quality and cost.